Recent Posts
1
Sold!
3
Thanks for sorting the video Mike, just the one in the main report as well please
Sandy
4
« Last post by Sandy Nelson on September 29, 2016, 20:18:45 PM »
5
« Last post by Liam Stephen on September 29, 2016, 19:23:54 PM »
Sandy
I've just noticed how shit my picture from yesterday is. Bloody hell I'm sorry!
6
« Last post by Liam Stephen on September 29, 2016, 18:31:50 PM »
Seriously awesome reports there Sandy!
Thanks for a brilliant couple of days to round off a bloody great season.
It will be nice to look back at these posts in the next few months and dream. Tying season is now open!
Liam
7
« Last post by Hamish Young on September 29, 2016, 18:27:46 PM »
Marcus Walters has been in touch and advised that unfortunately due to a funding shortfall the Moray Firth Trout Initiative (MFTI) has come to an end.
It's a great shame that the successor to the Moray Firth Sea Trout Project has been wound up within a decade of its inception, but anyone working in the field acknowledges that in the current economic climate its nigh on impossible to keep such projects running and sadly the MFTI is gone.

Over the years I and other forum regulars have willingly donated lots for auctions, our time for project work and generally lent any assistance we can to aid these programmes. My sincere hope is that many of the Trusts and Boards will work more extensively each other now, being forced to do so by an increasingly "interested" Scottish Government, to ensure that the aims of such initiatives and the good works done are not lost to history.

Sadly all good things must eventually come to an end, but I wonder with the demise of the MFTI we're going to start to see more of these projects winding up..... and indeed I'll bet that some of the Trusts may be next.

H
8
« Last post by Sandy Nelson on September 29, 2016, 18:25:59 PM »
Anyway back to our walk to the car.
So just as he is bemoaning the fact he could do with a good one to wrap things up we spot this.
Dejavu from yesterday except this time i spotted and handed the chance over
After a few covers without a movement from the fish, she pitched up and snaffled the fly. awesome fun watching the scrap, another great way to round off the season. Another 21-22" fish but looking very lean almost like post spawning already, with a hollow belly.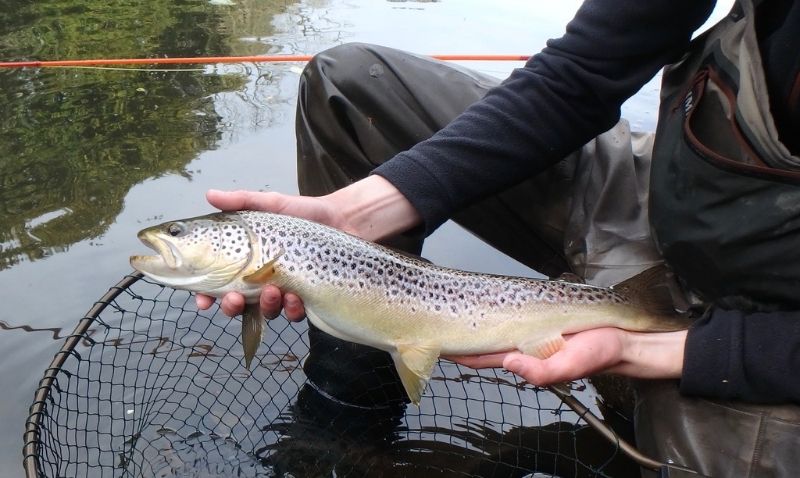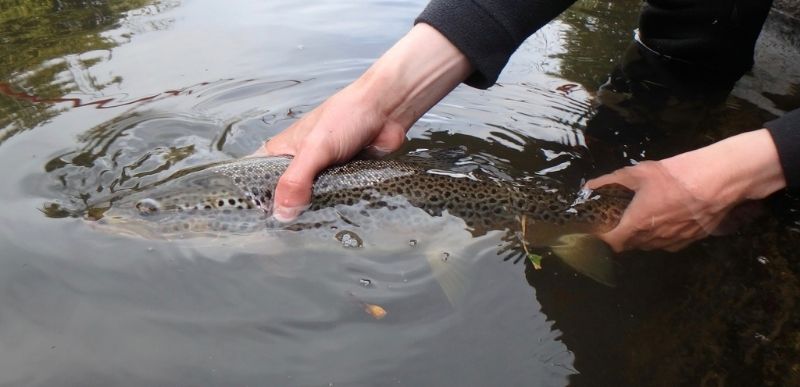 Well done young man
Sandy
9
« Last post by Sandy Nelson on September 29, 2016, 18:02:09 PM »
An interesting week to round off my very interesting season.
We've had wind, rain, bright sun, warmth, coolness and calmness, but none of this has deterred the BWO's from hatching in large numbers, some times more than others, but the fish have been feeding pretty steadily on the continuous stream of flies coming down. Still its all feeling very autumnal.
It took me a wee while to figure things out on Monday night, as there were a lot of very gentle rises which seemed to me , to be be better fish than they appeared, well trying my usual flies did not seem to elicit the desired response, so i got to wondering if the fish were feeding on Spinners rather than the many duns floating down.
Turned out to be a good plan, a wee size 16 orange spinner was just the ticket and i got a couple for more trouble.
With this knowledge up my sleeve, wednesday was to be one of the best days of the 2016 season. Lots of beautiful fish in the 10-14" category with a handful of 16+ hoovering up spinners. Looking fantastic in the breeding colours
Not all the steady risers were locals either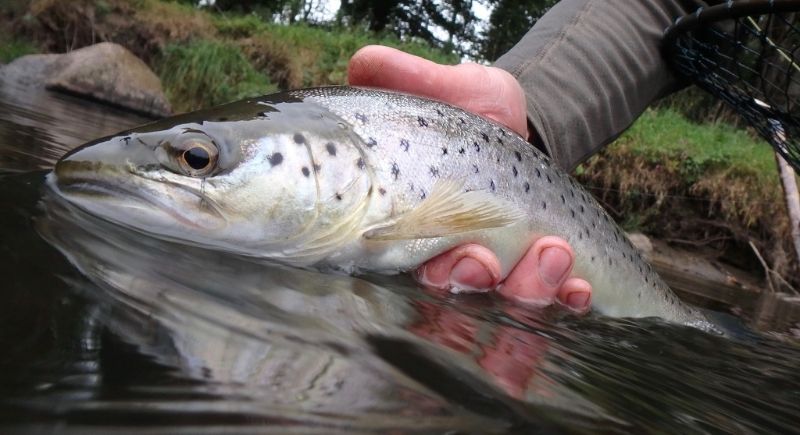 It turned into a day of spotting fish from the banks and then getting into position and stalking them, brilliant fun and some rather good fish about too. The Young Gun was having a great time bending his glass stick again, lovely fish too about 16"
"
http://player.vimeo.com/video/184880382
" width="640" height="360" frameborder="0" webkitallowfullscreen mozallowfullscreen allowfullscreen
We met up with Mr Cameron later in the day and he was doing much the same and had spotted a rather special fish picking off the flies quite close in. The kind gent that he is ,
let me have a crack at it. This one ignored the spinner, but was picking things of the top with regularity, so after a wee thought i went for a size 16 APT. First cast and he sidled over and sipped the fly quite nonchalantly. the water erupted and the fight ensued.
2nd best of the season and a good 21-22"long, well chuffed
, the photographer needs some lessons in how to use my camera though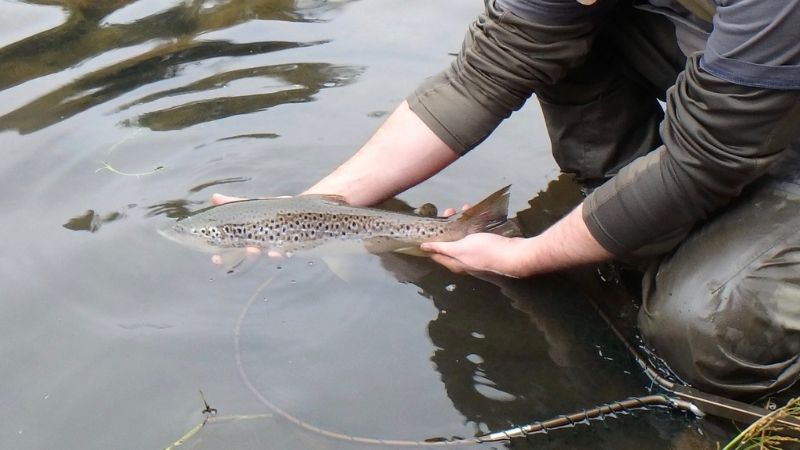 A great way to bring the season to a close, but still another day off beckoned
Well today has been bloody windy and rather wet, but the fish continued from yesterday and despite the river getting more coloured as the day went on, the spinner continued to fool the fish and my very last fish of the season from the Don was definitely one of the prettiest.
A lot of sea trout in pods feeding hard on the duns and spinners, but we had a lot of fun stalking more fish, Young Mr Stephen was extolling the thought of getting one last good fish for himself on the way back to the car when we spotted it, but thats another post as i have a video to share which is a rather fun.
Oh, and the weirdest catch of the week, was the oddest catch of the season.
I thought i'd hooked a leaf, but this was not what i expected to find on the hook
Twas dead though.
Sandy
10
« Last post by Hamish Young on September 29, 2016, 17:59:33 PM »
Up for grabs is an as new Orvis Encounter II Large Arbour fly reel, I used it on a #5wt distance casting outfit so it's never been fished with and is in mint condition.
The Encounter reels are no longer available from Orvis but the related Clearwater reel is. It's a shame as the Encounter is very light weight, has a first class drag and despite the moulded composite construction looks and feels like a much more 'high end' reel; I use the larger version for most of my domestic saltwater fly fishing.

I've found them to be a solid reel without any vices as it's tough, good value and light weight make it an excellent workhorse reel. Piccies to follow.

£xx including UK delivery. PM any interest please.

H