Recent Posts
1
River Don Brown Trout
2
« Last post by Mike Barrio on May 28, 2015, 20:20:18 PM »
Thank you Chay, I hope you like them when you try them
Best wishes
Mike
3
« Last post by chay on May 28, 2015, 18:56:32 PM »
Thank you to mike for a prompt proffesional service my lines arrived next day , with a letter of thanks
very happy and impressed !!!!! thanks mike
4
« Last post by Rob on May 28, 2015, 07:26:46 AM »
How strange.
This might be migrating eels leaving some of the lochs and heading back to sea. Could the problem be the lochs rather than the river? Could explain why nothing is being noted on other rivers?

The eel is in massive decline already, hope it is not yet another blow for them.
5
« Last post by Mike Barrio on May 27, 2015, 23:53:38 PM »
A cracking Brownie and photo from 'Klinkhammer' Scott
6
« Last post by Spiderman on May 27, 2015, 16:07:33 PM »
I was forwarded this email pertaining to an issue with Eels on the Dee.
I think it would be good information for all the guys fishing to watch out for and please if you find any evidence contact the email address provided
"Dr Lorraine Hawkins, Manager of the River Dee Trust has received a lot of reports of dead and dying eels on the Dee over the last six weeks and she is wondering if any other rivers were seeing a similar problem. The problem seems to be widespread throughout the Dee catchment, with dead eels being removed from a lot of fishing beats. The dead/dying eels typically have white lesions over their body. The Dee Trust has managed to capture four live ones so far which are currently being analysed by the Fish Health Inspectorate but in the meantime she would like to hear from any other rivers if they are seeing a similar problem. E-mail to:
Lorraine@riverdee.org
"
hopefully no-one has anything from other rivers, not something i've seen yet on the Don, Ythan or Deveron, finger crossed.
Cheers
Sandy
7
« Last post by Spiderman on May 27, 2015, 15:20:41 PM »
Great stuff Scott ..... that first photo is awesome!

Ditto
Another near bank escapade too, over half my big uns this year have come from casting less than a rod length of flyline.
Sandy
8
« Last post by Mike Barrio on May 27, 2015, 14:51:07 PM »
Great stuff Scott ..... that first photo is awesome!
Cheers
Mike
9
« Last post by klinkhammer on May 27, 2015, 14:37:11 PM »
Had my first evening session on Monday. Not much happening with a cool breeze and very little fly life. Last night was a bit better, still a cool breeze but maybe not quite so cold as the previous. I headed to the more sheltered spots hoping to find some surface feeders.
After a wee bit of searching early evening I tempted this plump trout on a slimly tied olive DHE size 14. Its been a fantastic year for trout in the 2-3lb range... and some heftier ones too!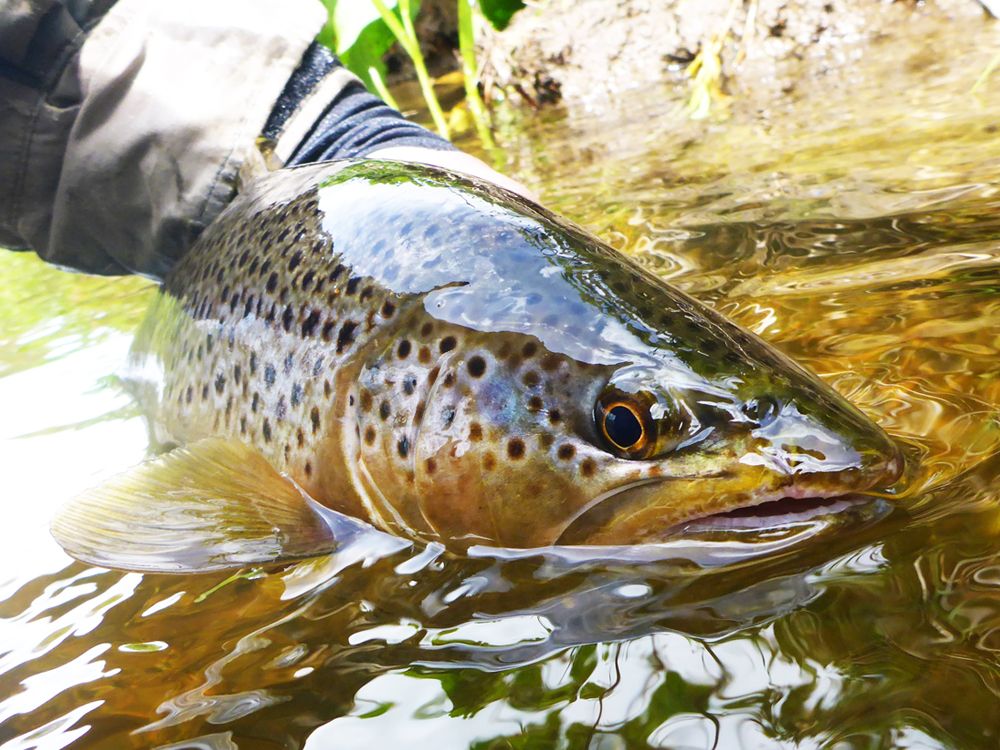 Just before 10pm I changed my fly to a slightly heavier dressed DHE, again size 14. Went to a spot where I pricked a decent fish earlier in the season and was pleasantly surprised to see him nosing the surface again in the exact same spot, no more than 2 feet from my bank. I waded out to get a slight angle on the cast, its a tricky piece of water, at best I'd have a 2-3 second drag free drift, get the angle wrong and the dry would skate immediately... I got there eventually and the fish took the DHE with confidence, after a quick bolt upstream he turned (this was the bit I wasn't looking forward to) and headed downstream straight into the fast weedy water, after a nervy few minutes I managed to get control and net this beauty.....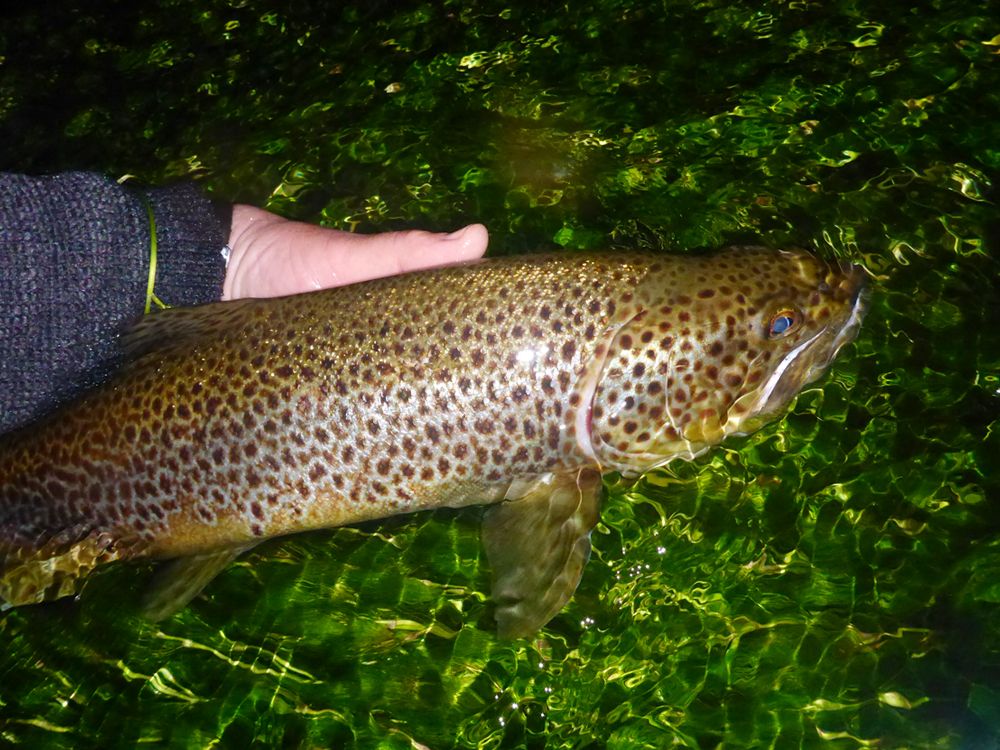 Still that nip in the air, shouldn't be long now before we get some decent evening rises but more than happy with my efforts so far
Cheers
Scott C
10
« Last post by Rob on May 27, 2015, 13:05:26 PM »
This trout was in very shallow water and only a couple of steps from the bank ..... and precisely where we would have entered the water

+1
I have started fishing bits I normally walk straight past and have has quite a few fish from areas you would think would be to fast/too shallow. Biggest fish I have seen would have been pushing 6lbs and was laying tucked under the bank I was standing on.