Please click here to read our cookies and privacy information before using our website.
1
on: Yesterday at 23:40:06
Started by Spiderman - Last post by Dryflee
Like them flees Sandy
2
on: Yesterday at 23:37:55
Started by TheYoungGun - Last post by Dryflee
I've a flybox full of nymphs and a few dries for you Liam, had it ready since the Don match last August. It's to replace something I lost earlier last season
3
on: Yesterday at 23:35:09
Started by morayflyfisher - Last post by Dryflee
Mike
Give me a shout if you re going to Kevin's place, i'll tag along if I'm home.
Jim
Forum outing?
? Didn't we touch on this before, i'm sure Kevin offers a deal on fishing both waters?
4
on: Yesterday at 23:32:12
Started by Mike Barrio - Last post by Dryflee
Looks the beeswax, wish i'd known about it before I bought the Rio one, but on the other hand i'll just have to add to my Santa list so I can compare the two
5
on: Yesterday at 23:28:42
Started by Spiderman - Last post by Dryflee
Could it be because the olives are water borne and the fish follow them up through the water as they emerge? Certainly the bread and butter feeding in these parts (although caddis would be high on that list),I've witnessed that the fish take a little while to 'lock on' to all fly life (Bob Wyatt prey image kinda thinking) and olives are no exception. Once homed in though it only takes a trickle hatch to bring the fish up. On the other hand I've covered black gnat and hawthorn feeders that simply won't look at an olive imitation, chocolate flavour or otherwise.


6
on: Yesterday at 17:50:36
Started by Spiderman - Last post by Mike Barrio
I like your thinking Sandy, keep it simple ......... and with observation to back this up and boost your confidence
Cheers
Mike
8
on: December 16, 2014, 17:09:03 PM
Started by Spiderman - Last post by Marc Fauvet
Either that or Olives are made of Chocolate
tbh, that's the only thing that really makes sense...
but ! the whole olive thing is a really nice observation.
i can definitely say that this doesn't apply to my local streams in the Pyrenees.
but on the other hand, your very same selection of flies (smaller sized) will work just as well here even though we have few olives of any form.
go figure, i'll stick to your chocolate theory
cheers,
marc
9
on: December 16, 2014, 16:56:14 PM
Started by Spiderman - Last post by Spiderman
Over the course of the season I spent a lot of time watching while fishing.
I made quite a few interesting observations into the behaviour of the bigger fish, especially in their feeding habits. I was wondering what any of you guys thought as to the following observations.
Any alternative experiences or similar ones, it might be nice to get a few different takes on it.
The biggest thing I noticed this year was.....
Good sized trout will opportunistically feed on hatching flies if they are hungry (or the hatch is isolated and prolific, like hawthorns falling from a tree), however if they are not hungry they will just ignore them, unless the hatch is a hatch of olives.
Every hatch of olives brings the better fish up to feed (well most of them
), no other flies seem to do this with any regularity. It didn't seem to matter which species of olive was hatching, whether it was Large dark olives, olive uprights, Blue winged olives or Small dark olives as soon as they appeared the trout would start to feed on them. Hence why I only seemed to have to match the size and profile of the insects hatching to succeed with the fish and not change the basic colour of the fly.
It became very apparent to me during June when I was getting some afternoons on the river and it was teeming with fly life but no decent fish rising until some sporadic mini hatches of BWO's started, as soon as they appeared decent fish would appear, sometimes right under your feet (if you were not making any fuss) and the fish would take a fly confidently, I hadn't made this connection quite so deliberately before but the more I studied it the more apparent it became that it was the olives the fish were looking for.
I spotted many hatches of other flies at the same time as the olives and if you watch them very carefully the trout will select the olives out of the mix. So Olives must taste nice
It did make my basic fly selection a lot of sense, but with all the books and information about all the bugs I was surprised by just how basic it all might be.
It may well be that this only really applies to the Don, or any other freestone river where Olives are prevalent and that on other types of river the trout show similar behaviour towards other flies, so it would be interesting to hear from some of the guys who fish a lot elsewhere as to whether you have noticed similar behaviour.
Either that or Olives are made of Chocolate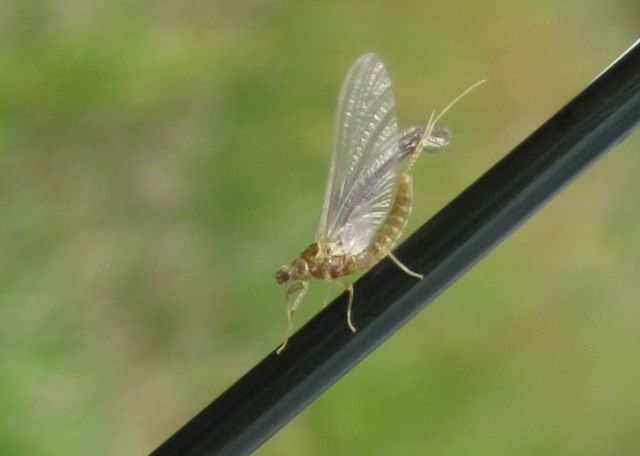 regular BWO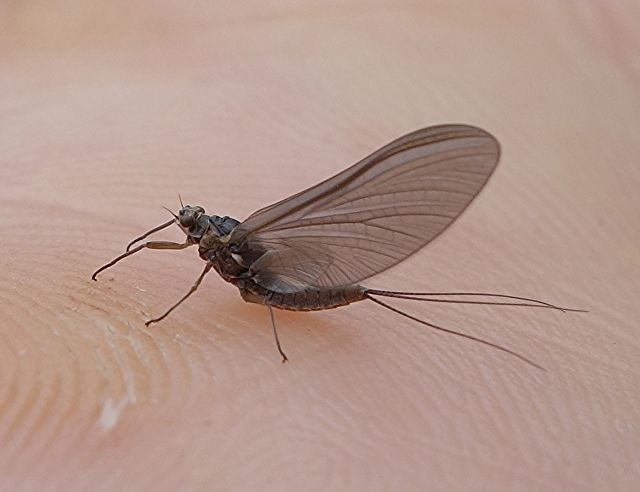 Chocolate BWO?
Cheers
Sandy
10
on: December 16, 2014, 09:49:56 AM
Started by Mike Barrio - Last post by Marc Fauvet
looks like Peter's a little deflated...
Forum moderators - Mike Barrio - Hamish - Spiderman - Ben_D